The culinary scene in Asheville is anything but ordinary. Locals, travelers and tourists in search of eclectic eats are in for a treat when they take a bite out of Asheville's food scene. If you're looking for an excuse to take a road trip to Asheville, here are 22 delicious reasons why you should hop in the car right now and check out the best restaurants in Asheville, North Carolina.
The best restaurants in Asheville, NC
Come for the mountains and culture, but stay for the food in Asheville. Recently named the Top Food City in the US, according to Yelp, if you're hungry, you can't miss these top restaurants in Asheville.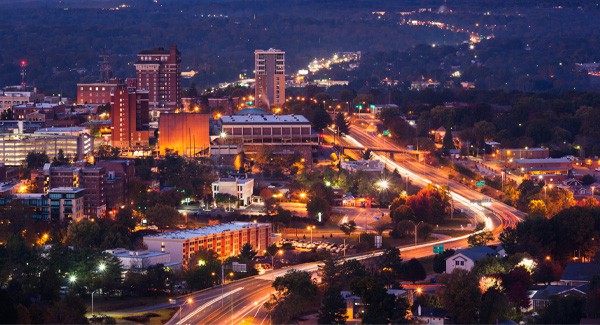 Jettie Ray's Oyster House
View this post on Instagram
People don't normally turn to the mountains to find the best seafood, but Jettie Ray's Oyster House might change that perception. With seafood influenced by Gullah, Native American, French, and Spanish cuisine, Jettie Ray's both indoor and outdoor space offers a wide array of some of the best seafood in town. While their specialty might be oysters and fresh fish from all over the east coast, their wide array of seafood fare, as well as a diverse drink menu of beer and cocktails, make Jettie's a must visit!
Posanas
Right in the heart of downtown Asheville lies Posanas, a warm and welcoming dining room and outdoor patio that offers a farm to table menu. Drawing inspiration from local ingredients, Posanas rotates their menu depending on the season, providing ingredients from over 65 farmers in the area. Along with their reputation for local food sourcing, Posanses also boasts an entirely gluten free menu. If you're looking to have dinner for a special occasion and you're in downtown, Posanas is an excellent choice!
Wicked Weed
Ever since it opened in 2012, Wicked Weed has arguably become the premier brewery in Asheville. Even though its wide array of beer options is reason enough to go, their food and atmosphere are added bonuses. Beloved by both tourists and locals, the relaxed and rustic venue with an added outdoor area offers simple pub options like pretzels with beer cheese and burgers, to more refined dining like steak tar tar on toast and seared barramundi with grits.
Zambra
View this post on Instagram
If the mood calls for zesty, light, and European, Zambra is a great call! Zambra goes for a Spanish theme, specializing in rotating and wonderful tapas dishes, as well as an extensive wine selection. Though it is billed as a tapas restaurant, Zambra also has a variety of dishes, some with medium to normal portion sizes you would find elsewhere. Located in downtown Asheville, Zambra is great for a date night or special occasion.
Salsa's
For the best Mexican in town, Salsa's is the place to go. Not your typical Mexican restaurant,Salsa's combines its Mexican menu with Caribbean flavors and recipes, creating a full on Latin food experience that is a must experience. The mountain burrito, grilled steak fajitas, and caldero verde are crowd favorites, and if you're not in the mood to eat, you can always enjoy one of their house specialty beverages at the bar.
Gourmet Chip
Looking at Gourmet Chip's exterior, you might think it's a Mast General Store. Inside though is one of the best lunches you can have in Asheville. Though a specialty potato chip store by trade,Gourmet Chip also makes some of the best panini sandwiches you will ever have. Uniquely, Gourmet Chips will pair one of their specialty chips with the panini you have ordered, making for a delicious lunch!
Asheville Proper
View this post on Instagram
Porterhouse steaks, double-cut pork chops, New York Strips. Are you drooling yet? Asheville Properspecializes in the meats just mentioned, but what you might not have experienced before is the unique way that the meat is cooked. Asheville Proper uses the cooking style of live-fire dining, which means there is a hearth in the middle of the restaurant where patrons can watch their meat be prepared and cooked. Located in the historic Grove Arcade, don't miss a chance for a unique dining experience with spectacular food!
Bone & Broth
Bone and Broth offers that cozy neighborhood eatery that everyone needs. Their menu contains regionally farmed dry-aged cuts, fresh baked goods from neighborhood bakeries, and a variety of organic food. On top of that though is a southern tint to their menu, along with a bar with some of the best cocktails in the city!
Chai Pani
View this post on Instagram
Meherwan Irani, Chef and owner of Chai Pani has always been proud of the food and atmosphere at his Indian street food restaurant, but more recently, he's really had something to celebrate, as the establishment was recently named Most Outstanding Restaurant in America by the James Beard Awards. Don't leave until you try the Kale Pakoras and chicken tikka roll!
Sunset Terrace (Grove Park)
There is no better view of Asheville and the surrounding area than from the Grove Park Inn, and the historic and world famous hotel's Sunset Terrace restaurant combines those views with fantastic food and wine. Its meat heavy menu and Wine Spectator Award of Excellence on nine separate occasions wine selection will not leave you disappointed.
The Red Stag Grille
Get out your nicest outfit and spend date night at the classy Red Stag Grille, located at the Grand Bohemian Hotel. The dim lighting and deer antler decor gives it an elegant hunting lodge vibe, but the food will impress you even more. Like its ornamentation, the menu has a broad spectrum of hunted game, from elk, deer, and duck. Reservations can fill up quickly, so be sure to schedule far in advance!
Curate
Another tapas option to explore is Curate. Located in the middle of downtown in a 1920's era bus depot, and easily one of the best restaurants in Asheville, this wonderful setting provides a friendly atmosphere with a generous wait staff happy to help you understand all their menu can offer. Tapas is about variety and discovery, and Curate provides a chance to experience both.
Tupelo Honey
View this post on Instagram
Most people in the Carolinas have become familiar with the chain Tupelo Honey, but most people aren't aware that it began in Asheville! Sometimes it's hard to beat a full southern breakfast full of grits, biscuits, gravy, and so many other sweet and savory options. What's great about Tupelo Honey is that it's just as good for breakfast as it is for lunch, so go enjoy yourself with everything southern in the whole first half of the day!
Jargon
If you're in west Asheville and want live music, atmosphere, and great food, Jargon is what you're looking for. It's menu is a diverse one, influenced by their team's international travel, yet sourced with local ingredients. Jargon certainly has a livelier crowd, so this is more of a Saturday hangout spot than a quiet evening meal. Definitely try the shrimp and grits if you get the chance!
Copper Crown
View this post on Instagram
Paying homage to New Orleans and Italy, Copper Crown is a lovely neighborhood restaurant located in the Beverly Hills area of Asheville. Copper Crown has become a favorite amongst locals in the last few years, so if you're looking for something away from the business/trendiness of downtown, this is a good option!
Avenue M
Located in Uptown Asheville, just a short ride from Grove Park Inn, Avenue M is an eclectic little eatery. The creative menu, which changes frequently, features culinary twists on traditional comfort food items. With an impressive cocktail and wine offering, patrons can receive half off bottles of wine on Wednesday, and $2 off cocktails on Thursday.
Nine Mile
This Caribbean-inspired dive has three locations in Asheville and is a must visit if you're in the area. Open for dinner, this unique spot serves colorful plant-based entrees with homemade sauces, packing a flavorful punch to each dish. If coconut sriracha sauce, basil butter sauce or even mango jicama mint salsa sound appetizing, do yourself a favor and go ahead and grab a seat at Nine Mile.
Plant
Recently highlighted on the the Thrillest list for the 33 best vegan and vegetarian lists in America, Plant is the 10th best ranked restaurant in Asheville, by Trip Advisor. Since 2011, this 47 seat cafe has consistently served the best plant-based fare in Asheville. Reservations are encouraged and recommended. Call at 4 for the best chance of receiving a table!
Sunny Point Cafe
Open for breakfast, lunch and dinner, Sunny Point Cafe features a diverse menu featuring Mexican, French, and classic American cuisine. Named the best burrito in North Carolina by Business Insider, if you're a Tex Mex connoisseur, you've got to sample the breakfast burrito. With a motto of comfort food from dawn to dark, you can even have breakfast at night at the Sunny Point Cafe, as their full menu is available for dinner. Rated the 9th best restaurant in all of Asheville, you can't beat this local spot.
Chestnut
View this post on Instagram
At Chestnut, your dining experience is 100% hand-crafted. From hand cut fries to picked vegetables and smoked fish and meats, expect locally sourced fresh food at this popular Asheville cafe. Besides a few crowd-favorite munchies, under the direction of head chef, Joe Scully, the menu at Chestnut changes monthly, offering new flavors and dining experiences to restaurant goers frequently. Find seasonal favorites just in time for fall like Fall Squash Vindaloo and Juniper Seared Duck Breast with Spiced Hazelnut Butter when you dine at Chestnut.
Roman's
Known for their award-winning burgers and sandwiches, and located right in the bustling center of downtown Asheville, don't be fooled by this low-key eatery. Roman's is the #5 restaurant in all of Asheville, by Trip Advisor and has been serving up delicious lunch fare for over a decade. Proudly serving Asheville's best burger, if you're a burger fan, you've got to stop by for lunch one afternoon.
The Corner Kitchen
Located in Biltmore Village,The Corner Kitchen serves brunch and dinner seven days a week. Beautifully appointed in a 109-year-old building original to Biltmore Village, The Corner Kitchen features southern classics like corn and crab chowder and shrimp and grits. Owned by the same crew that runs Chestnut, The Corner Kitchen is very popular and reservations are highly encouraged.