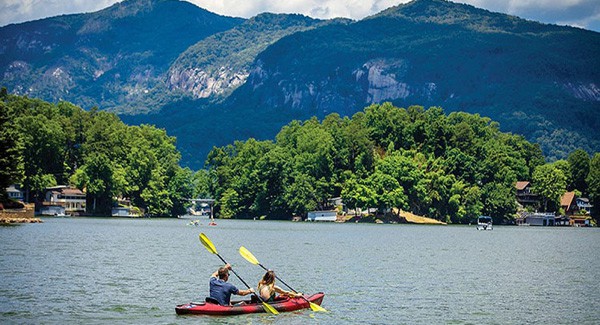 With no shortage of outdoor activities thanks to the bevy of mountain cliffs, Lake Lure, North Carolina is a town to see. Sandwiched between the Blue Ridge Foothills and Chimney Rock, this little town was put on the map when Baby and Johnny danced their way into everyone's hearts with the release of the hit film, "Dirty Dancing" in 1987. If you've never been to Lake Lure here are 7 reasons why you need to plan a road trip, ASAP.
Visit Burntshirt Vineyards Tasting Room and Bistro
In a family-run tradition spanning 80 years, Burntshirt Vineyards produces high-quality wines of unique character. And they are available to you from their winery in Hendersonville, as well as from the tasting room in the heart of Chimney Rock. The covered patio of their beautiful new building has some of the best views of both Chimney Rock and Hickory Nut Falls. Find the perfect glass of wine to complement the romantic view.
438 Main Street, Chimney Rock | (828) 436-2490 | burntshirtvineyards.com
Unwind at Irongate Spa at The 1927 Lake Lure Inn
Lake Lure Inn & Spa was founded along with the town in 1927 and continues to keep pace with the community's ever-growing options for recreation and relaxation. Located within the inn, The Irongate Spa offers numerous opportunities for relaxation and rejuvenation. Each of their signature hair, nail, and facial services are designed to improve circulation, reduce tension, and promote relaxation.
2771 Memorial Highway, Lake Lure | (828) 625-2525, Ext. 116 | irongatespa.com
Hike in Chimney Rock State Park
Chimney Rock State Park features several hikes with unparalleled views. You won't regret a hike (or elevator ride) to the top of 
Chimney Rock
 itself, one of the most iconic sites in North Carolina. On a clear day, you can see 75 miles across Hickory Nut Gorge and Lake Lure. Or take the popular 
Hickory Nut Falls trail
 to the bottom of one of the tallest waterfalls east of the Mississippi River. This moderate, 1.4-mile (round trip) trail is peppered with resting areas along the route. At journey's end, you'll be awed by the 404-foot falls featured in "The Last of the Mohicans."
431 Main Street, Chimney Rock | (828) 625-9611 | chimneyrockpark.com
Have Dinner with a view at La Strada Italian Grill
This family-owned and -operated business has been serving couples and families great food for nearly 50 years. Their New York-style brick oven pizzas and traditional Italian cuisine offer something special for everyone. Enjoy favorites like baked and sautéed pasta, Sicilian pizza, fresh seafood, and much more. But be sure to save room for their signature desserts. La Strada also serves up incredible views from an elevated and covered outdoor patio.
2693 Memorial Highway, Lake Lure | (828) 625-1118 | lastradaatlakelure.com
Relax in Morse Park
This waterside park offers many scenic enclaves across its 23 acres. The park consists of four distinct areas, the meadow, the landscaped gardens, the wetlands, and the riverside. A scenic trail with benches along the way loops you through them all. In addition, from Morse Park you have incredible views of Lake Lure and Rumbling Bald vistas. Find the perfect view, sit, and watch the local birds and wildlife as the sun sets behind the peaks.
2948 Memorial Highway, Lake Lure | (828) 625-9983 | townoflakelure.com/parksreclak/page/morse-park
See the Lake Lure Flowering Bridge
The three-arch, 155-foot-long Lake Lure Flowering Bridge and its surroundings are lined with native flowering plants that attract humans, wildlife, and pollinators alike. The bridge features more than two dozen independent gardens, including a few semi-secluded spots for a romantic moment. The vast majority is wheelchair accessible, and an audio tour is available via your mobile phone.
3070 Memorial Highway, Lake Lure | lakelurefloweringbridge.org
Dine at Legends on the Lake
Come by land or by water—just make sure you come hungry! Legends on the Lake is one of several restaurants located within Rumbling Bald Resort on Lake Lure. Legends features a foodie-friendly menu of fresh entrées served for lunch and dinner. Enjoy handcrafted pizzas and house-ground burgers. Or opt for something a little fancier, like the maple bourbon glazed salmon. The welcoming staff and family-friendly atmosphere guarantee a great dining experience. But it's the great views of the water that will make your evening legendary.
112 Mountains Boulevard, Lake Lure | (828) 694-3032 | rumblingbald.com
Love Where You Live in Lake Lure, NC
If visiting Lake Lure for a weekend makes you want to relocate here or find a lake-view second home, here's some helpful info on waterfront mountain real estate. Along the shoreline of Lake Lure, there is a unique variety of homes. Find styles ranging from the historic to the modern, from the somewhat rustic to the state of the art. No center of leisure would be complete without good options for wining and dining, punctuated by the beauty of local art. Lake Lure satisfies in this respect, as well. The town and its environs offer no shortage of amusements and something for just about everybody.