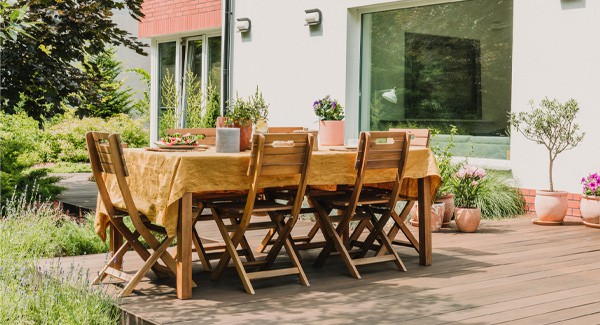 Despite inflation woes, the latest data points indicate that the overwhelming majority of homeowners will continue with their plans to renovate in 2023. If you're planning a renovation project in 2023, take note of what's trending with homeowners, especially as specific features and projects relate to resale value.
The home office is here to stay
With a large majority of Americans working a hybrid or fully remote schedule post pandemic, the home office is here to stay. Homeowners are renovating or rearranging their home to now have a larger workspace, more conducive to working from home on a routine basis. Many remote employees are choosing a room in their house that serves as an office by day and an entertaining room by night, making full use of a space.
Those searching for homes are in step with this line of thinking, with most home buyers adding a dedicated home office (or two) to their wish list.
Indoor/outdoor living
One of the biggest trends to come out of the pandemic was the emphasis on creating entertaining areas outside. While many thought this trend might dry up as the pandemic lessened, the desire to have outdoor living spaces is still going strong today.
Covered back patios and porches are high on homeowners' wish lists, as well as front porches. Adding outdoor entertaining space pays out big time when you sell, with decks showing to recoup about 78% of the total project cost when you sell.
Beyond decks and patios, the outdoor fireplaces are having a major moment, as many outdoor lovers seek to have a reason to stay outside in cooler months. Outdoor kitchens are also hugely popular, too, and will continue to climb in popularity as the drive to have indoor and outdoor entertaining areas continues.
In the luxury housing sector, homeowners are opting to add floor-to-ceiling sliding glass doors, which creates a seamless transition between the living room and outdoor dining area.
An even bigger island and custom cabinetry
A whopping 52% of homebuyers say a kitchen island is a 'must' on their home shopping checklist. Love it or hate it, the kitchen island is here to stay. But not just a standard-sized island, today's homeowners want a significantly larger surface area. With room to seat their entire family for dinner, space to prep meals and entertain guests, the island is truly becoming the workhorse of the kitchen.
Beyond island size, the desire for custom cabinetry is only growing, as homeowners want hidden dishwashers, refrigerators and even closets or butler's pantries.
Curbless shower
If you haven't noticed by now, the seamless look is really gaining a lot of traction. Beyond a seamless look in the kitchen and indoor/outdoor living spaces, homeowners also want that same design feature in the bathroom, and thus, the curbless shower trend is growing in popularity.
In addition to aesthetics, curbless showers are also highly practical, especially as a growing number of people are choosing to age at home.